Early Access Release Date
Jump Behind the Wheel of the Ultimate Destruction Machine in Chaos on Wheels, Coming This October
Join the Chaos Crew and control vehicles equipped with missiles starting October 19th
We, developer, Acodeon are excited to announce that our vehicular combat action title Chaos on Wheels will be launching into Early Access on October 19th. Jump into a decked out car and take down enemy vehicles, turrets and more. Join fellow Chaos Crew members vying to grab the top spot and be crowned The King of Chaos.
Chaos on Wheels features intuitive and easy-to-learn driving that allows players to focus on the game's exciting combat. While in the garage, players can create their dream vehicle by equipping it with all manner of armor and weapons. Not to mention paint jobs and other gadgets to help with taking down opponents. Smash through the semi-destructive environments while drifting, jumping and performing stunts on dozens of diverse maps.
The Early Access version of Chaos on Wheels features a ten-chapter campaign, single-player Chaos Career, a custom battle selection with split-screen for two players, as well as two game modes. It also includes over 25 vehicles with loads of equipment, dozens of maps and a group of unique drivers to choose from. Players' garage management will have a limited amount of actions, but this will be fully polished the closer the game gets to full launch. Acodeon Gaming hopes to receive and implement player feedback during Early Access in order to deliver the best final product.
Features
Destroy:

Enjoy fast-paced action with tons of bullets, rockets, and missiles that you can take onto semi-destructible environments. Destroy your friend and leave nothing behind but dust.

Build:

Manage your vehicles in your personal garage, where you can upgrade weapons, ammo, and armor. Equip new gadgets, add wraps, change your paint job, and more. 

Ride:

Pick a driver and get ready to drive, drift, jump, and perform amazing stunts on dozens of maps.

Eliminate:

Take down turrets and other hazards that are determined to stop you. Destroy them to unlock new cars, weapons, armor, and gadgets, and leave the evil AI Helios in ashes.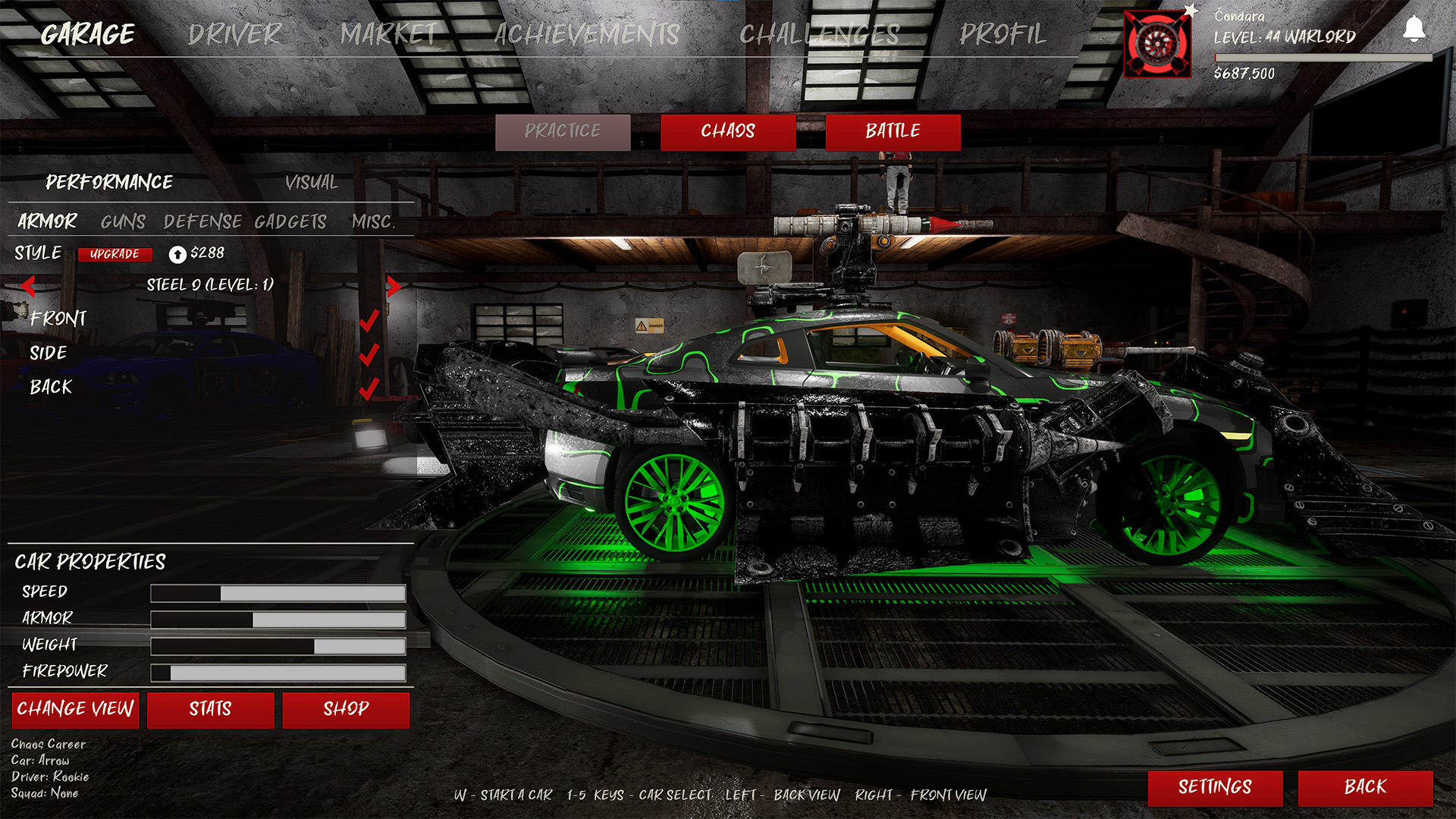 Chaos on Wheels is set to release into Early Access via Steam on October 19th. Players that wish to meet up with fellow Chaos Crew members can join the official discord and wishlist the game on Steam to stay up to date on future crew happenings.
🌠 Wishlist Chaos on Wheel on Steam 🌠